Bike the Byway
Clifton Park, New York – Hope on your bicycle and take a ride through history! The Mowhawk Towpath National Scenic Byway will host "Bike the Byway" on Saturday August 28, 2010. The event will be a 38 mile bike ride that will highlight historic and recreational opportunities along the byway.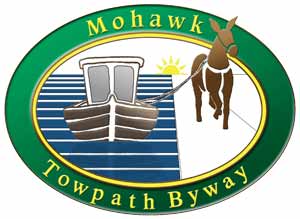 Highlighted locations will include river valley vistas, the confluence of the Mohawk and Hudson Rivers, 19th century Erie and Champlain Canal features, current-day canal facilities, Falls View Park in Cohoes and Waterford's harbor area. Byway volunteers will provide commentary and interpretation at refreshment stops where ride participants regroup.
Points of interest in Clifton Park will be along Riverview Road and will include the hamlets of Rexford and Vischer Ferry, the view from the intersection of Nott Road, Vischer Ferry Dam overlook, and Vischer ferry nature and historic preserve.
The event is free and open to the public. The ride will start at 9AM at the entrance to the Colonie Town Park at Schermerhorn Road.A 5th anniversary commemorative long-sleeved t-shirt will be available , with a $20 donation made to the Mohawk Towpath Byway, while supplies last.
For more information please call the Mohawk Towpath Scenic Byway Coalition at (518) 383-8565.
Looking for more fall fun? View the Clifton Park Fall Guide!