Explore Clifton Park Area Hiking & Biking Trails
Stroll, hike, bike - whatever your passion is, and however you like to walk your walk, there's a place in Clifton Park for you to do it. With various trails all over the area, you're bound to find a path that suits your stride.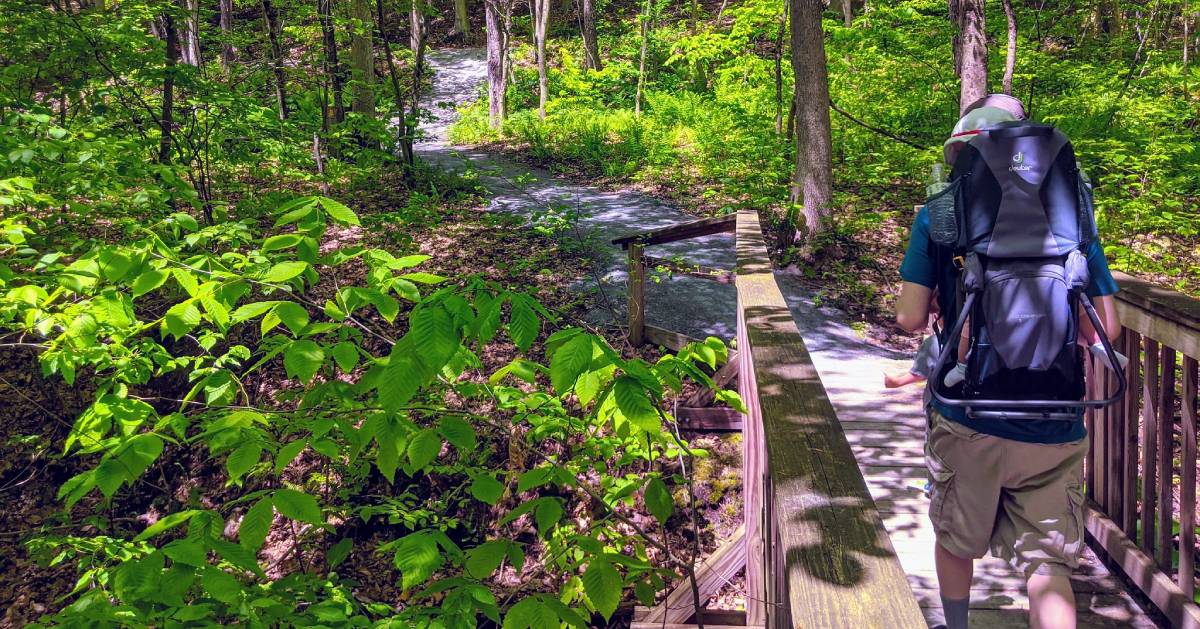 100 Acre Wood Trail System
Nearly 2 miles of scenic trails in the 100 Acre Wood Trail System make use of some of the original logging trails, along with newly constructed footpaths throughout the preserve. Although bikes aren't allowed on this one, the trail system is perfect for walking and hiking as there are only a few moderate inclines throughout it.
Location: Trailheads and parking areas are located on Stonebreak Road and Luther Forest Boulevard in Ballston Spa/Malta.
Read more about the 100 Acre Wood Trail System »
Dwaas Kill Nature Preserve
Owned by the Town of Clifton Park, Dwaas Kill Nature Preserve features 240 acres of mostly undisturbed habitat and some rugged, natural surface nature trails. These trails are open for hiking and walking; if you arrive by bike, there is a bike rack at the trailhead.
Location: Parking area and main trailhead are located along the west side of Pierce Road in Clifton Park
Kinns Road Park
Kinns Road Park is made up of roughly 64 acres of Saratoga County Forest and 32 acres of adjoining lands. There are wooded trails that are open for both hikers and walkers; although it is dog-friendly, a permit must be obtained from the Town of Clifton Park Town Clerk.
Location: 625 Kinns Road in Clifton Park
Mohawk Landing Nature Preserve
Mohawk Landing Nature Preserve is a beautiful 6-acre riverfront park with a main hiking trail that runs across the property to a scenic overlook. There is also a seasonal nature trail that travels around a wetland area. Visitors can take a casual walk, spread out a picnic at the riverfront, or just enjoy the view!
Location: Access at 640 Riverview Road in Rexford
The Mohawk Towpath Scenic Byway consists of a 36-mile path that runs alongside the historic route of the Erie Canal between Schenectady and Waterford/Cohoes. Some features to note along the way include the Cohoes Falls and the Flight of Locks in Waterford. This route is great for biking!
Location: Throughout the Capital Region with entrances in Rexford and Clifton Park
North Woods Preserve
An 80-acre forest comprises this beautiful preserve in the Country Knolls neighborhood. Here you will find easy to moderate hiking trails that travel through mature woodlands and by streams and a pond.
Location: Trailhead is located between 38 and 40 Shadow Wood Way in Ballston Lake, and parking is along the street
Robert Van Patten Memorial Trail
This 1.6-mile long multi-use trail connects to Ushers Road and the intersection of Carlton Road and Van Patten Drive.
Location: At the intersection of Van Patten Drive and Carlton Road in Clifton Park
Shenantaha Creek Park
Shenantaha means "deep water," and it is the Iroquois name for Ballston Creek on the eastern boundary of this park. The paved trail that runs along the western boundary is the multi-use Zim Smith Trail, so you can park your vehicle at Shenantaha Creek Park and then explore the trail. There are several trails on the property that connect to the playground, athletic fields, and picnic areas.
Location: The entrance is on East Line Road in East Line.
Ushers Road State Forest
This 100+ acre state forest features two marked hiking trails that are open to non-motorized recreation. The Ushers Road Trail is 1.5 miles long and loops through the property and back to the trailhead. The Spur Trail is shorter and connects to the multi-use Zim Smith Trail.
Location: Ushers Road Parking Area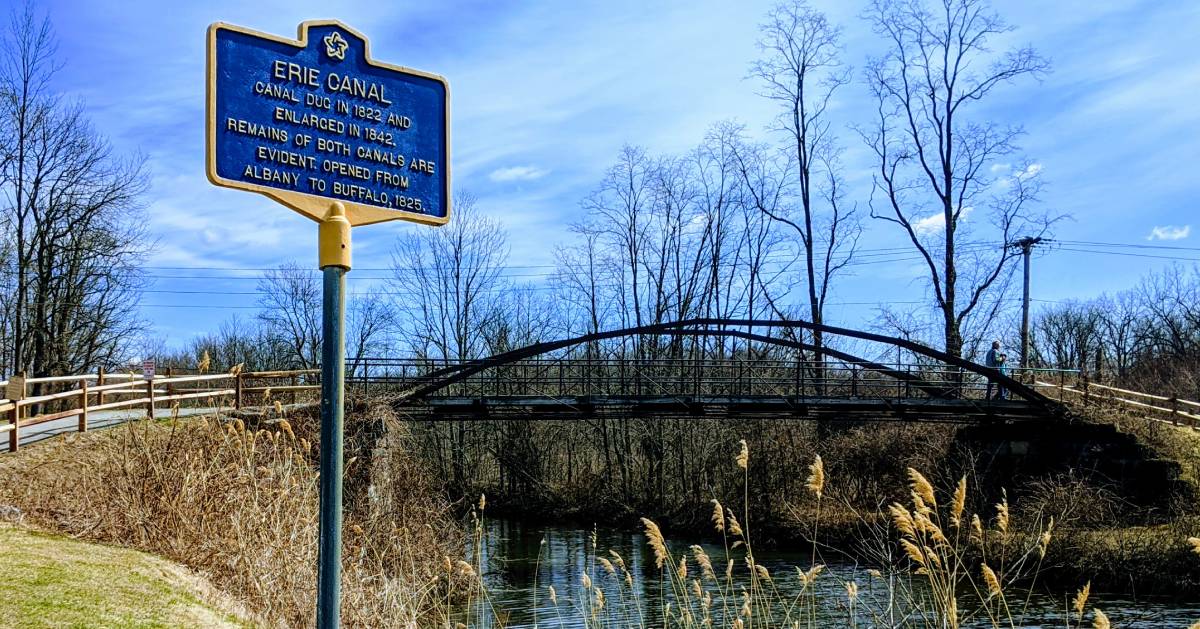 This 700-acre preserve is a great choice for hiking and mountain biking. There are 4.5 miles of trails on a relatively flat terrain, as well as multiple access points. Did you know the preserve is a designated Bird Conservation Area too? Keep an eye out for exciting species like orioles, great blue herons, and various species of hawks - you might even see bald eagles here!
Location: Four main access points
Zim Smith Trail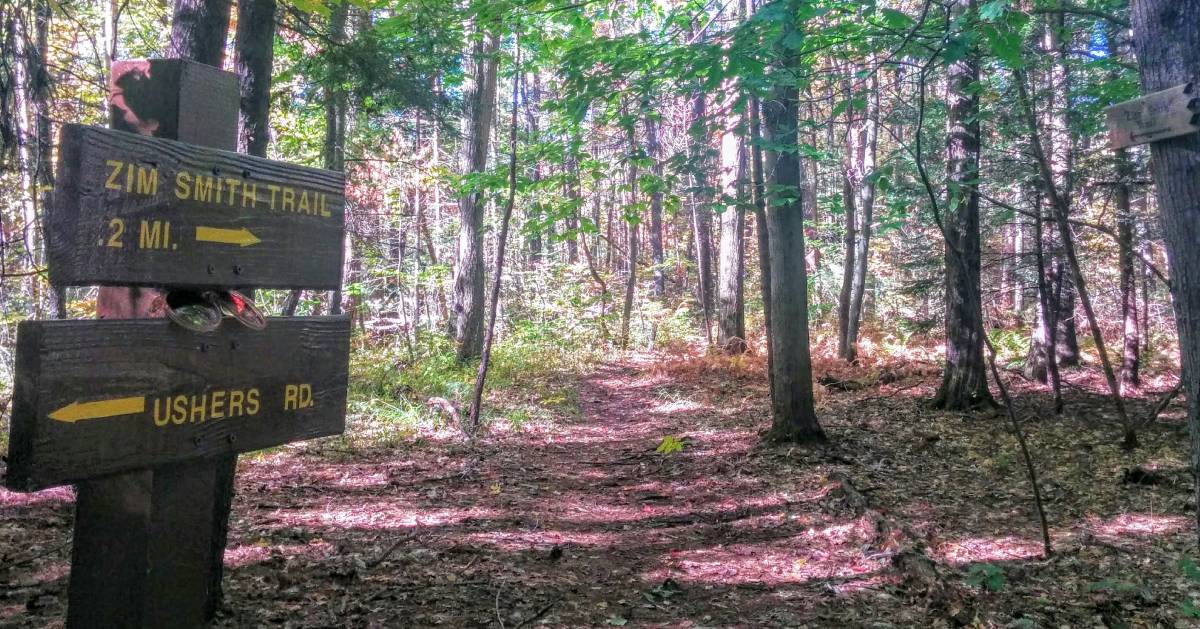 The Zim Smith Trail is an 11.5-mile multi-use path that connects Ballston Spa to Mechanicville, and it passes through Malta, Round Lake, and Clifton Park in southern Saratoga County. A majority of the Zim Smith Trail is paved, and it is open for hiking, biking, and other recreational activities. This trail officially begins on Oak Street in Ballston Spa, but one recommended starting point is Shenantaha Creek Park in Malta, which features plenty of parking.
The first 9-mile stretch of the Zim Smith Trail extends from Ballston Spa to "Coon's Crossing" (named after an early settler) in Mechanicville. From there, the trail continues east for 2.5 miles until it ends near the Little League Park.
Location: The trail extends from Ballston Spa to Mechanicville