2010 Season At the Saratoga Race Course
Clifton Park, New York -This summer will mark the Saratoga Race Course's 142nd racing season! Only a few minutes away from Clifton Park, the race course offers excitement, big races and special events all summer long!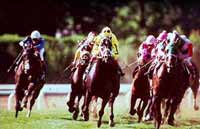 July 23, 2010 is opening day at the track. As a part of the celebration, NYRA will be offering free grandstand admissions to patrons (usually $3) and a reduced Clubhouse admission of $2 (usually $5). So don't miss out!
The Hats Off To Saratoga Festival will act as an opening celebration, beginning on July 23, 2010 and continuing all weekend. The Hats Off Music Festival will bring live music to many different locations all over downtown Saratoga. On Sunday the celebration will conclude with the traditional Saratoga Hat Contest.
The 2010 Saratoga Race Course schedule is packed with special events including Mid-Summer St. Patrick's Day, Fabulous Fillies Day, Stewart's Ice Cream Eating Contest and more. Attend a race on a giveaway day and receive a free gift with a paid admission. Also, the track offers large selection of food and drinks from Saratoga's finest local restaurants. Go to the race course this summer and enjoy yourself and the historic pastime of Saratoga Springs.
Other Season Highlights: Travers Day, which takes place on August 28th, 2010 and the Labor Day BBQ, which takes place on closing day September 6th, 2010.
Looking from more information about Race Track dress code, tickets, or parking? Find this and more at SaratogaRaceTrack.com.