Discover The Town Of Malta NY In Saratoga County
The Town of Malta NY is everybody's hometown. Located in Saratoga County, just minutes from Clifton Park NY, Malta is ideal for families who enjoy quiet, small-town neighborhoods and outdoor recreation with the convenience of being close to popular destinations like Saratoga Springs and Albany.
There is much to discover about this charming community, from its peaceful, upscale neighborhoods and parks to its bustling business district. The town's two recreational parks provide the perfect location for hiking, picnicking, snowmobiling, fishing and other sports. Malta NY is also home to the new Luther Forest Technology Campus, a state-of-the-art semiconductor manufacturing facility.
Many superb, privately-owned restaurants flourish in the Town of Malta and nearby, due to its prime location on Saratoga Lake and along Route 9. It's a great place to grab a bite to eat, whether you're seeking a casual meal or an upscale dining experience. Local favorites include Abeel's Restaurant, Manna's Restaurant, The Ripe Tomato and many others.
From its small-town appeal and friendly hospitality to its strong business economy and great restaurants, discover all there is to love about Malta NY!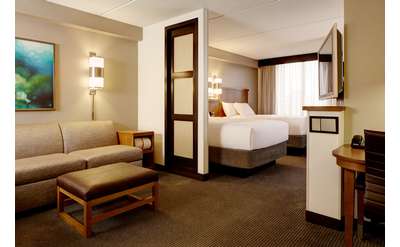 Hyatt Place Saratoga/Malta
Malta, NY
See what happens when a hotel is designed around you. Stay at Hyatt Place Saratoga/Malta: a new kind of Hyatt for today's relaxed lifestyle. The perfect atmosphere for the Saratoga area, where the tradition of style and comfort lives hand in hand.