Halfmoon New York Is A Charming Community Near Clifton Park!
Halfmoon New York is very near to Clifton Park in Southern Saratoga County. The border between these two towns is often so indistinguishable that many locals think of (and refer to) them as one! While this charming community offers the benefit of being near Clifton Park, there are also many other desirable aspects of the Town of Halfmoon itself.
Upscale communities and a thriving business district in Halfmoon are appealing to home buyers and business entrepreneurs alike. Well-maintained roadways, clean neighborhoods and low crime rates also contribute to the town's appeal. Add in Halfmoon's prime location near Clifton Park, and it is no wonder why it is one of the fastest-growing towns in the nation!
Named for the ship Henry Hudson sailed on his inaugural journey down the Hudson River, Halfmoon NY is nestled at the crossroads of two rivers. The Mohawk River establishes Halfmoon's southern town line, also serving as the border between Saratoga County and Albany County to the south. The Hudson River establishes the town's eastern town line, serving as the border between Saratoga County and Rensselaer County to the east.
There are also plenty of shopping, dining and recreational opportunities available in the Town of Halfmoon, as well as nearby in Clifton Park, Saratoga, Albany and other surrounding communities. Plan a visit, and you'll soon discover what makes Halfmoon New York such a popular area!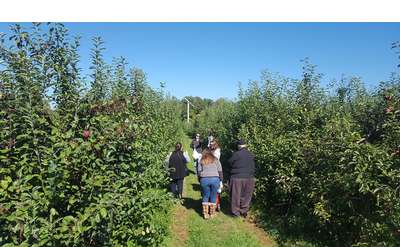 DeVoe's Rainbow Orchards
Halfmoon, NY
DeVoe's Rainbow Orchards is an apple orchard and country store offering u-pick apples, fresh produce, baked goods, gift baskets, and during the summer, incredible ice cream at Rainbow Delights! Create lifelong memories at this local family farm.