The Village Of Round Lake NY
Named for its characteristic, round-shaped body of water, the village of Round Lake NY is located in the Town of Malta and offers quiet living with spectacular lake views.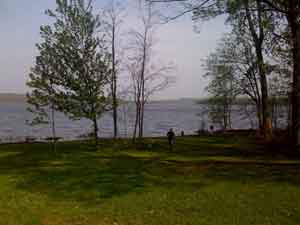 Scenic parks, historic homes and unique community events add to the charm of this small village. Whether it's attending a theatre production at the Round Lake Auditorium, going for a stroll along a quiet village street on a sunny afternoon, taking a ride down the village bike path on a crisp autumn day or browsing through unique items at the Annual Antiques Festival in the spring - residents of Round Lake NY find there is never a shortage of activity and recreation in this quaint village!
Round Lake is located about a half hour north of Albany and just 15 minutes from downtown Saratoga Springs (traveling north) or Clifton Park (traveling south), making it easy to access the best of all areas, including great shopping and dining options, popular attractions, a variety of business services and more.
If you're considering Round Lake NY real estate to buy a home in the area - or simply visiting the village, you'll find this area offers it all... tranquility, natural beauty, community spirit and more... all just a short drive from Albany, Clifton Park and Saratoga Springs.