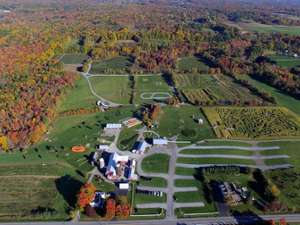 Ballston Spa, NY
For old-fashioned fall activities kids of all ages will love, visit Ellms Family Farm over in Ballston Spa, NY. Create new memorie...
[+More]
Schuylerville, NY
Schuyler Farms in Schuylerville, NY, offers a variety of fun activities and attractions during fall, such as hayrides, a corn maze...
[+More]
Rexford, NY
Pick your own apples at Riverview Orchards, located in Rexford, NY. In addition to the orchard, the property features a well-stock...
[+More]
Hoosick Falls, NY
Located about 45 minutes east of Clifton Park, Hay Berry Farm has a variety of u-pick choices from blueberries to lavender and muc...
[+More]
Castleton-on-Hudson, NY
Known for their strawberries and pumpkins, Swartz Dairy & Produce has been in operation for five generations. Visit in the fall fo...
[+More]
Eagle Bridge, NY
Once belonged to famous Grandma Moses, it is now operated by her grandchildren and family. They have a great selection of vegetabl...
[+More]
Schodack, NY
Pick your own apples, berries, and pumpkins at Kristy's Barn in Schodack, or choose from a variety of freshly grown and baked good...
[+More]
Troy, NY
Engelke Farm in Troy is a family owned and operated vegetable and fruit farm featuring a nursery, pumpkin patch, hayrides, pick yo...
[+More]
Altamont, NY
A family operated u-pick farm for over 40 years in the Capital Region, Altamont Orchards is a great place to go for fresh fruit. T...
[+More]
Fultonville, NY
Choose from more than a dozen varieties of apples and plenty of other fruits & vegetables at Bellinger's Orchard. While you're the...
[+More]
Schaghticoke, NY
Liberty Ridge Farm is the perfect destination for the fall season! There is something for everyone, including a corn maze, pumpkin...
[+More]
Fonda, NY
Sand Flats Orchard in Fonda, NY, offers u-pick and picked apples, cider, pumpkins, squash, cider doughnuts, pies, fudge, and more....
[+More]