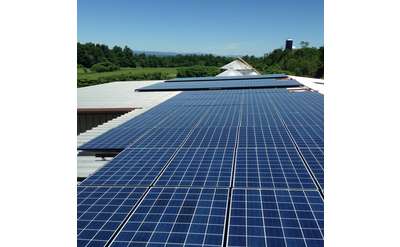 AEC Solar
AEC Solar provides state-of-the-art solar systems for homes and businesses in the Capital Region, North Country, and Adirondack areas. The company is backed by over 30 years of experience and is a leader in the renewable energy industry.
Positive Energy NY
Positive Energy NY works with developers and EPCs on large scale commercial and utility solar projects. They can provide start-to-finish project construction services for your renewable energy needs.
Vivint Solar
Providing residences with solar energy solutions that reduce your energy bills and carbon footprint.
Trinity Solar
Featuring over 20,000 solar panel installations and 1,000 employees, Trinity Solar offers over a decade of experience in the solar industry. They handle both commercial and residential solar power system projects in the Capital Region and beyond.
Apex Energy
Switch to solar and save on your energy bill. Apex Solar installs panels on homes and businesses throughout the Northeast.
High Peaks Solar
High Peaks Solar designs and installs turnkey solar powered systems. They serve all of New York State and are eligible to install in Connecticut as well.
NYREER
Trust NYREER to reduce your energy bill and carbon footprint with their solar energy solutions
Kasselman Solar
Specializing in both residential and commercial solar panel installation, Kasselman Solar helps customers throughout the Capital Region save money, increase their property value, and reduce carbon emissions.
Rewire Energy
Based out of Saratoga Springs, Rewire Energy will install your solar energy system at your home or business
AEC Solar
A subsidiary of Tesla, AEC Solar provides homes and businesses with solar energy solutions