Cross-Country Skiing Near Clifton Park
Cross-country skiing is a fun way to enjoy the winter scenery and get a great workout! There are many places in and around Clifton Park where the whole family can enjoy cross-country skiing.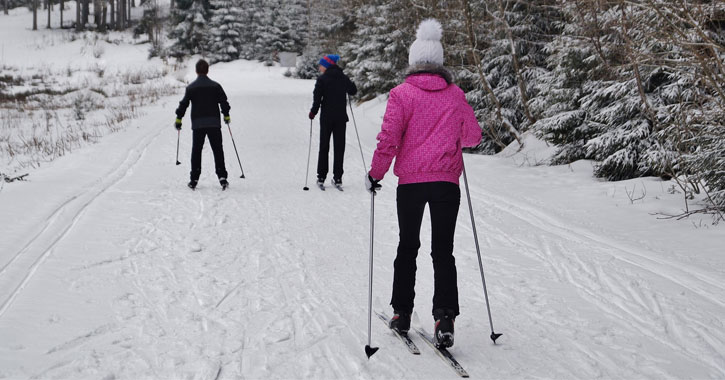 Cross-Country Skiing Destinations:
A best bet for free cross-country skiing in Clifton Park. The town regularly offers beginner ski lessons in January, February, and March for novice skiers of all ages!
Kinns Road Park
Enjoy cross-country skiing on the Kinns Road Park nature trails. Maps are available from the office of Parks, Recreation, and Community Affairs.
Indian Meadows Park
Located in Glenville, there is a three-mile trail groomed for cross-country skiing in the winter. The main trail loops around the athletic fields and there are side trails into the main park that allow you to customize how far you go.
Saratoga Spa State Park
Enjoy the timeless beauty and open terrain of 12 miles of skiing and snowshoeing trails at Saratoga Spa State Park! Trail maps are available at the Park Office.
Lapland Lake is worth the 90-minute drive to Northville in the Adirondacks! The ski center features 50km of scenic cross-country ski and snowshoe trails for all ability levels. Trails are regularly groomed for classic and skate skiing, and lessons are available.
Tree Haven Trails
Located in Hagaman, just over half an hour from Clifton Park, Tree Haven Trails has over 30 miles of groomed and track-set cross-country skiing trails set on a scenic Christmas tree farm.
This 600-acre preserve at the intersection of Riverview Road and Vanvranken Road has well-maintained trails for cross-country skiing, hiking, and more.
Bonus tip: Give both classic and skate skiing a chance before you decide which one is right for you!