Clifton Park's Winterfest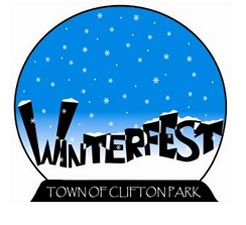 Stay tuned for 2018 Winterfest information as it becomes available. For an idea of what to expect, check out the details from last year's event:
This year, the 27th annual Clifton Park Winterfest will be held on February 11, 2017. Join the Town of Clifton Park for a day of winter fun and excitement for the whole family!
Enjoy local competitions, entertainment, and winter activities at locations all over Clifton Park. Free admission will be offered at the following locations: Barney Road Pond, Clifton Common, Clifton Park Center, Garnsey Park, Hilton Garden Inn, and Riverview Orchards.
Events at Clifton Park Center Mall
Clifton Park Community Groups (10:30am-2:30pm)
Groups will include the American Cancer Society - Relay for Life, CAPTAIN and CAPTeens, Cub Scout Packs of Clifton Park, Clifton Park Senior Community Center, Clifton Park - Halfmoon Emergency Corps, Clifton Park - Halfmoon Public Library, G.R.E.E.N. Committee, Historic Preservation Commission, Kids Read Too, and RPI Student Mentors, EV3 LEGO Robotics, and Animation & Gaming.
Shen Inventors (9:00am-5:00pm)
Clifton Park Community Chorus (11:00am)
The 12th Annual Clifton Park Idol Contest (11:45am-1:00pm)
A major part of the day, the Clifton Park Idol Contest is an annual singing competition! Clifton Park residents will compete for the title in front of a live audience. Round 1 will begin at 11:45am, and Round 2 will begin at 1:00pm.
Taste of Clifton Park (2:00pm-4:00pm)
Don't miss the "Taste of Clifton Park" Best Soup Contest! You can stay warm by sampling soups from various restaurants, and then vote for your favorite! Participants include Angelo's Prime Bar & Grill, Brick Tavern & Grille, Pasta Pane, Peddlers Bar & Bistro, Primal, Your Local Butcher, Ravenswood Pub, Rocco's, Rusty Nail Grill & Tavern, Seven, The Vista at Van Pattten Golf, and Wheatfields.
Zucchini Brothers (3:00pm)
More Winterfest Locations
Riverview Orchards (10:00am-4:00pm)
12:00pm-3:00pm - Experience a horse-drawn sleigh ride around the farm. In the event of no snow, there will be horse-drawn wagon rides. (Free)
11:30am-2:00pm - Enjoy lunch on the farm including chili or chowder, half sandwich, drink, and dessert. ($6.95) Pizza, drink, and donut for the kids. ($2.95)
10:00am-4:00pm - Snow Saucers and Tubes - Bring your own saucer or tube to try out on a very gradual slope on the farm. (Free)
11:00am-4:00pm - -S'mores at the Bonfire - Roast marshmallows and melt chocolate for a treat outdoors while staying warm at the fire. ($1.00)
11:00am-4:00pm - Kids Activities - Face painting, crafts, and more! (Free)
11:00am-4:00pm -Winter Fun Scavenger Hunt - Kids can go outside to solve clues and find the treasures. (Free)
Cross-Country Skiing at Garnsey Park (10:00am-11:30am)
Youth Fun Classical Race (10:00am) Registration; Intervals begin at 10:30am - Four age groups between lollypoppers and 13-year-olds. No restrooms available.
Fun Cross Country Ski Sprints (11:00am) - Four age groups, male and female classes 18 & under, 19-39, 40-55, and over 56.
Family Fun Relay (11:30am) - Relay team consists of youths 13 or under with older male and older female. Prize package for all teams and ribbons for top three teams that finish.
Clifton Common (1:00pm-2:00pm)
Shenendehowa Rotary Club will host its first ever Winter Outhouse Races at Winterfest, which will take place at Clifton Common. Registration begins at 1:00pm, and the races begin at 2:00pm. Proceeds from the event will benefit CAPTAIN Youth and Family Services. There will also be monetary prizes.
Ice Fishing at Barney Road Pond (10:00am-12:00pm)
Check out an ice fishing demonstration and see the equipment used by ice fishermen at Barnsey Road Pond! Meet at Barney Road Pond from 10:00am-12:00pm by the dock off of Valencia Lane.
For more information on Clifton Park Winterfest, please call the Town of Clifton Park's Office of Parks, Recreation & Community Affairs at (518) 371-6667.