Try These Romantic Valentine's Day Recipes
Don't want to eat out at an expensive restaurant on Valentine's Day? Eating at home can be extremely intimate if you know how to make a delicious, romantic meal! You are sure to impress your loved one with these simple recipes.

First Course: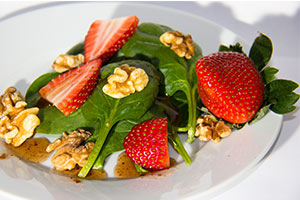 Ingredients: strawberries, avocado, sliced pecans, and a dressing of your choice (suggestion: a balsamic vinaigrette)
Place the salad greens in a bowl.
Slice avocado and strawberries and place on greens.
Drizzle dressing and sprinkle with pecans.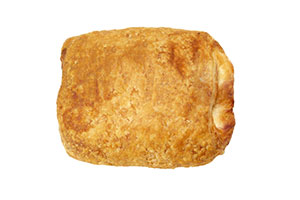 Ingredients: 1/2 cup milk, 1/4 cup margarine, 1/2 cup all-purpose flour, 2 eggs, 3/4 cup grated Parmesan cheese, 1 cup marinara sauce
Preheat oven to 375 degrees Fahrenheit. Lightly grease baking sheet.
In medium saucepan, bring milk and margarine to boil over medium high heat. Stir in flour, and reduce heat to low. Stir vigorously until thick enough to make into a ball. Remove from heat.
Beat eggs into mixture. Stir in Parmesan cheese.
Drop dough by spoonful on baking sheet.
Bake in oven for about 15 minutes or until golden brown.

Side Dishes: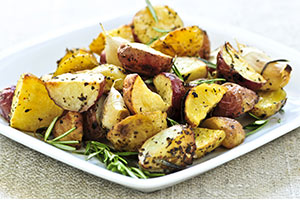 Ingredients: 6 small red potatoes, 2 tablespoons butter, 2 cloves minced garlic, 1 tablespoon chopped rosemary, 1 cup spinach leaves, salt and pepper
Preheat oven to 400 degrees Fahrenheit.
Melt butter over stove and mix in garlic. Stir in the rosemary. Pour this mixture over potatoes, which are quartered and spread out in a dish. Season with salt and pepper.
Roast for about 30 minutes in oven.
Remove from oven and toss with spinach leaves.
Return to oven for 1-2 minutes, until spinach has wilted.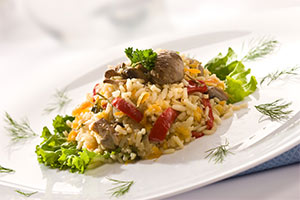 Ingredients: 2 tablespoons butter, 2/3 sliced green onion, 1 1/3 cups uncooked risotto rice, 4 cups water, 1 teaspoon chicken bouillon granules, 3/4 cup Parmesan cheese, salt and pepper
Melt butter in skillet over medium high heat.
Cook green onions in butter briefly then add the rice.
Cook and stir for a few minutes to toast the rice.
Stir in water, chicken bouillon, and salt/pepper.
Bring to boil, then cover and simmer for 20 minutes.
Remove from heat, and then add Parmesan cheese.

Main Course: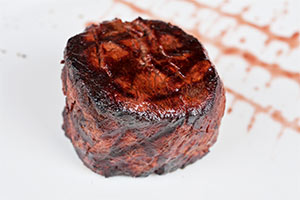 Ingredients: 2 (4 ounce) filet mignon steaks, 1/2 teaspoon black pepper, 1/4 cup balsamic vinegar, 1/4 cup dry red wine
Sprinkle pepper (and salt if you prefer) on both sides of each steak.
Heat a nonstick skillet, place steaks in hot pan, and cook 1 minute for each side, until browned.
Reduce heat and add balsamic vinegar and red wine. Cover and cook for 4 minutes on each side, pouring sauce on both sides.
Remove steaks and spoon glaze over them.
Wine Tip: Cabernet Sauvignon goes well with steak.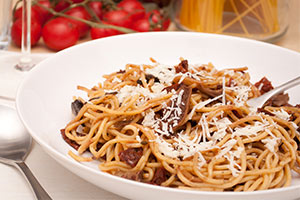 Ingredients: 1 tablespoon olive oil, 2 teaspoons butter, 2 boneless chicken breasts cut into pieces, 1 carrot sliced, 1 1/2 broccoli florets, 2 cloves minced garlic, 12 ounces angel hair pasta, basil, salt, pepper, and Parmesan cheese
Heat olive oil and butter in skillet over medium high heat, add chicken.
Cook chicken, stirring until cooked through, about 5-7 minutes.
Add carrot and cook for about 5 more minutes.
Then add broccoli and garlic to skillet for about 2 more minutes.
Cook pasta according to package directions.
Once cooked, add pasta to skillet.
Then add chicken broth, basil, salt and pepper. Sprinkle Parmesan cheese on top.
Wine Tip: Try a Pinot Noir or Merlot with pasta and chicken.