Clifton Park Library Offers Free Music
Card Holders Can Download Mp3 Files Free Of Charge
Betty Moyer | February 2011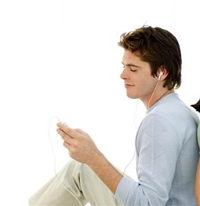 Clifton Park, New York - The Clifton - Halfmoon Park Library announces a new service to library card holders! Members can now download mp3 files from a database that has thousands of artists and titles for free!
These mp3 files can be saved and transferred to an iPod, smart phone, or mp3 player. Individuals are allowed 3 downloads per week and these files will not expire!
This is great news for those that spend $1 per song on iTunes. You can get $144 of free music a year! Just like on iTunes you can preview each song before you purchase, so you know you are getting the right one!
In addition to music files, members can also download audiobooks for your portable player and eBooks, which are compatible for digital readers.
The ability to download free music through the library is just another reason residents should take advantage of Clifton Park-Halfmoon Library and all it has to offer. Other services include wireless printing, programs for all ages and a wide selection of books! Learn more.
To learn more please call the Clifton Park- Halfmoon Public Library at (518) 371-8622.