Clifton Park E-News: Get Deals, Events, Specials & More!

Clifton Park's Annual Winter Festival :: February 7, 2015
Clifton Park Center - 22 Clifton Country Road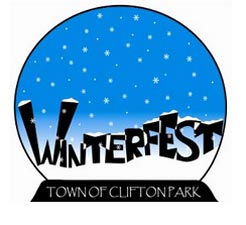 This year the annual Clifton Park WinterFest will be held February 7th, 2015. Join the Town of Clifton Park for a day of winter fun and excitement for the whole family.

Enjoy local competitions, entertainment, and winter activities at locations all over Clifton Park! The festival is a perfect way to enjoy the winter season in Clifton Park, NY!


The 10th Annual Clifton Park Idol Contest
A major part of the day, the Clifton Park Idol Contest is an annual singing competition for locals only! Clifton Park residents will compete for the title on February 7th! See who will wow the judges and win over the audience.

If you think you can be the next Clifton Park Idol, download and submit the 2015 registration form today! Submissions are due by January 16, 2015!

You'll also see the Clifton Park Community Chorus perform, and enjoy the entertainment of clowns, face painting, games and more!
Taste of Clifton Park
Don't miss the "Taste of Clifton Park" Best Soup Contest! You can stay warm by sampling soups from various restaurants, then voting for your favorite! Stop by the Clifton Garden Inn from 2:00 pm - 4:00 pm.

2015 participants:
Peddler's Bar & Bistro
Primal, Your Local Butcher
Ravenswood Pub
Rocco's at the Jonesville Store
The Vista at Van Patten Golf
Wheatfield's
Winter Activities at Riverview Orchards
Riverview Orchards will feature horse drawn sleigh rides and lunch on the farm!
For more information on Clifton Park WinterFest, please call the Town of Clifton Parks & Recreation Department at (518) 371-6667 or e-mail .

« See the Winter Guide
for more winter activities in the area!