Power's Irish Pub Opens In Clifton Park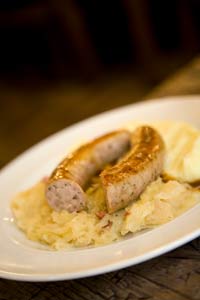 The Gifford family, owners of Giffy's Bar-B-Q in Clifton Park, have just opened a new eatery in the area, with a different taste to the menu. Power's Irish Pub, on the corner of Route 9 and Farm to Market Road, offers American food as well as traditional Irish cuisine.
Chef Janet Sterling will prepare your meal, which could include Irish classics such as shepherd's pie, bangers and mash, and Harp-battered fish fry.
This is quite different from the menu at Giffy's Bar-B-Q, who also caters events in the Capital Region. Giffy's has an American Bar-B-Q menu featuring ribs, chicken, pulled pork, and steak.
The Pub is open from 11am - midnight, Tuesday through Sunday, and it looks like they will have live music on Thursdays & Fridays.