Buy American, Make A Difference
Hometown USA Stores Opens Second Location In Clifton Park
Scott Stevens | September 2011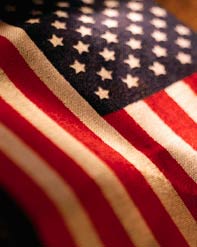 Clifton Park, NY - Hometown USA Stores' Clifton Park location is NOW OPEN. Just a year after their first location opened in June 2010 south of Albany in Nassau, NY, Hometown USA is spreading their patriotic message north!
Now people looking to buy American in Clifton Park NY and surrounding neighborhoods have a Hometown USA store a little closer to home! Business has been great at their first store, and they are hoping for the same success at their Clifton Park location. Are you ready for some All American shopping?
Hometown USA Stores are owned by Todd Scaccia, an American who would like to see more domestic products being purchased rather than the outsourced, imported products that often line the shelves in department stores today.
Scaccia urges all Americans to purchase goods that were manufactured in America. As more domestic products are purchased, more will need to be produced, thus creating a number of jobs that haven't existed since the days before outsourcing began. He claims that while unemployment and the national debt continue to rise, there is absolutely no reason to be buying products manufactured overseas.
The only reason I can come up with for purchasing imported products is the price point. Obviously these companies that are outsourcing their products and services are doing it for the money. If the labor is cheaper, the product is cheaper. However, if we start to pay a little extra for our own, American made products manufacturers shouldn't have a problem paying a little extra to produce them.
After becoming frustrated that he could not find anything that was made in America while shopping for his wife's Christmas present, Scaccia was fed up and decided that a store that offers only American made products could be successful. One of the problems that he ran into when opening his stores was finding good quality, American made products.
Scaccia shopped around for a while before hiring a researcher full-time to locate domestic products that could be offered at Hometown USA Stores. Now that he has built up a bit of a customer base, Scaccia says he gets a lot of leads from people that shop at his stores. They come to him with suggestions for products and companies that do not outsource their goods, and make everything right here in hometown USA.

Hometown USA Stores offer more than 2,500 products in-store and over 4,000 products online. The products range from toys, clothing and footwear, to home & garden, tools and sporting equipment.
The new store in Clifton Park is located at 1525 Crescent Road, head down there, look at the labels, buy American, and make a difference. For more information and a complete listing of products, visit www.hometownusastores.com.