Local Company Creates App For Kids
By: Betty Moyer | June 2010
Clifton Park, NY- This summer you are guaranteed to have some down time with your kids. Whether it's in the car heading to a vacation or just around town, entertain your child with an iPhone App that allows them to color pictures of cartoon animals.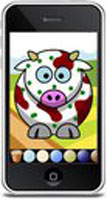 Axeva, a software company located in Clifton Park, New York , has created an app called Colortoons. It is an "interactive coloring book" that has 32 vibrant paint colors and 23 professional quality animal cartoons. The app can be used on an iPhone or iPod Touch.
There is also a blank canvas where your child can show their creativity and doodle to their hearts' desire. Younger children can simply fill in shapes with colors, making this an app suitable for all ages!
Colortoons is available for purchase through iTunes for 99 cents. For more information visit the Axeva website.