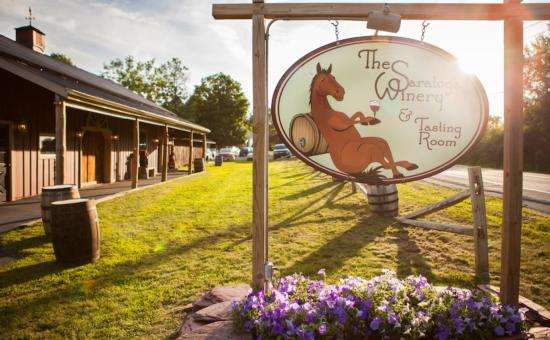 The Saratoga Winery & Tasting Room
462 Route 29
Saratoga Springs
,
NY
12866
Step into the Adirondacks just four miles from downtown Saratoga! Pull up a chair at at our Adirondack style tasting bar and sit back, relax and experience great wine!
Spring is here! Try any of our handcrafted wines during all business hours!
Thurday Evenings: Taco Night from 5-9pm, Trivia at 7pm, Hour Hour Drink Specials.
Friday Nights: Wood Fired Pizza and Live Music every Friday evening from 6-9pm.
Saturdays: Dinner from 3-7pm and Live Music from 3-6pm
Sundays: Create Your Own Pasta 3-7pm
Our Current List of Wines
Traditional Style Wines:
Whites:
Whitney's White, Saratoga White, Semi Dry Riesling, Dry Riesling, Chardonnay
Reds:
Rustic Red, Cabernet Franc, Merlot, Pinot Noir
All Natural Melomel Wines:
Melomel, our signature style of winemaking, is all natural wine made from 12% local honey and 88% grapes. Our Melomels have no added sulfites or preservatives and ferment in Kentucky bourbon barrels for up to three years before making it to your glass. The unique fermentation process leaves a smooth, sweet, port-like flavor with a hint of bourbon. Melomel will change the way you think about wine. You don't want to leave the winery without trying one!
Our Current Melomel Wines: Hillbilly Mountain Mash, Blackberry Reserve
Experience a Wine Tasting with us! Wine tastings are available during all business hours, no reservation required! We offer Cheese & Cracker Boards if your looking for something to munch on as you enjoy your wine selections. We also offer Cheese Pairings and Chocolate Pairings!
Like us on Facebook! Don't forget to like us on Facebook and follow us on Twitter to be the first to know about food and wine pairing events, Girls Night Out, holiday parties and more! Visit www.thesaratogawinery.com for details on our live music schedule and other upcoming events.
We have local products and wine gifts! Shop our selections of locally made products as well as wine related gifts that are perfect for the wino in your life! We can also make custom gift baskets!
Let us host your next event! Small and large gatherings and business meetings, bachelorette parties, bridal showers, family reunions, retirement parties, purse parties, birthday parties, benefits and more! Contact The Saratoga Winery at 518-584-WINE(9463) or info@thesaratogawinery.com for more information.
Current Hours:
Monday -Wednesday: 11am-7pm
Thursday: 11am-9pm
Friday: 11am-9pm
Saturday: 11am-9pm
Sunday: 12pm-7pm
The Saratoga Winery is located just under 4 miles West of Broadway on Route 29 in Saratoga Springs. Turn between the Starbucks & Gap located on Broadway in Saratoga Springs onto Washington Street. Continue to follow Washington Street for just under 4 miles. We are located on the left hand side.
***Please be advised that most GPS' have trouble picking up our address, or will bring you to the wrong location. Please do not hesitate to call us at 518-584-WINE or visit our website www.thesaratogawinery.com for very easy and accurate directions.***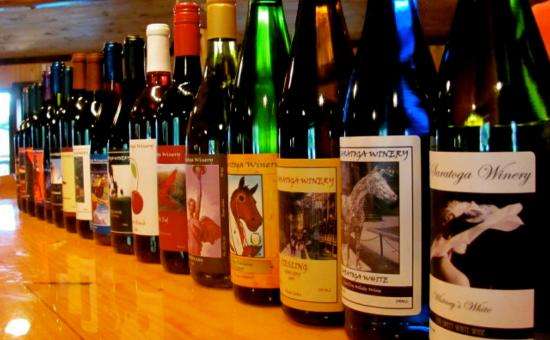 Click on the thumbnail images to see the larger version











Print More Information
Directions & Map
Always get confirmation of the business location.
Upcoming Events
When: Today at 11:00 AM to 7:00 PM
Where: The Saratoga Winery & Tasting Room, 462 Route 29 West, Saratoga Springs NY 12866
Every Monday at The Saratoga Winery is Buy One, Get One FREE Wine Tastings! We're open 11am to 7pm, stop in and experience any of our 12 handcrafted wines. No coupon necessary!
When: Tue, Apr 28, 2015 at 11:00 AM to 7:00 PM
Where: The Saratoga Winery & Tasting Room, 462 Route 29 West, Saratoga Springs NY 12866
Every Tuesday at The Saratoga Winery you can keep your glass for FREE when you purchase a $5 Wine Tasting! Our wine glasses are etched with The Saratoga Winery logo and horse on them. No coupon necessary.