The Saratoga Winery & Tasting Room
462 Route 29
Saratoga Springs
,
NY
12866
Step into the Adirondacks just four miles from downtown Saratoga! Pull up a chair at at our Adirondack style tasting bar and sit back, relax and experience great wine!
Live music & Food every Friday 6-9pm! Visit our website for band & menu details!
Traditional Style Wines:
Whites:
Whitney's White, Saratoga White, Semi Dry Riesling, Dry Riesling, Chardonnay
Reds:
Rustic Red, Torched Cherry Bomb, Steeplechase, Cabernet Sauvignon, Cabernet Franc, Merlot, Pinot Noir
All Natural Melomel Wines:
Melomel, our signature style of winemaking, is all natural wine made from 12% local honey and 88% grapes. Our Melomels have no added sulfites or preservatives and ferment in Kentucky bourbon barrels for up to three years before making it to your glass. The unique fermentation process leaves a smooth, sweet, port-like flavor with a hint of bourbon. Melomel will change the way you think about wine.
Sweet Caroline (White), Blood Root (Red), Blackberry (Red), Hillbilly Mountain Mash (Red), Saratoga Spitfire (Red) & Adirondack Red (Limited Edition Red).
Visit The Saratoga Winery & Tasting Room! Wine tastings are available during all business hours, no reservation required! Hand crafted, locally made cheeses and homemade crackers are available for purchase for the perfect snack to pair with your wine tasting. You can also enjoy great live music and wood fired pizza every Friday evening from 6-9pm. Don't forget to like us on Facebook and follow us on Twitter to be the first to know about food and wine pairing events, Girls Night Out, holiday parties and more! Visit www.thesaratogawinery.com for details on our live music schedule and other upcoming events.
Sip wine while you shop in our new gift shop! Hand crafted cheese boards, unique wine holders, bottle stoppers, wine bottle candle holders, cork wreaths & more! The perfect shopping stop for that special wine lover!
Ask about our wine gift baskets! Whether your tastes are savory or sweet our gift baskets make the perfect present for any occasion! Baskets feature your favorite Saratoga wines paired with all of the best gourmet products. Savory and Chocolate Decadence are available in both small and large sizes.
Let us host your next event! Small and large gatherings and business meetings, bachelorette parties, bridal showers, family reunions, retirement parties, purse parties, birthday parties, benefits and more! Contact The Saratoga Winery at 518-584-WINE(9463) or info@thesaratogawinery.com for more information.
Current Hours:
Monday-Thursday, Saturday: 11am-7pm
Friday: 11am-9pm (Live Music & Food by Great Bay Restuarnt, every Friday 6-9pm)
Sunday: 12pm-6 pm
The Saratoga Winery is located just under 4 miles West of Broadway on Route 29 in Saratoga Springs. Turn between the Starbucks & Gap located on Broadway in Saratoga Springs onto Washington Street. Continue to follow Washington Street for just under 4 miles. We are located on the left hand side.
***Please be advised that most GPS' have trouble picking up our address, or will bring you to the wrong location. Please do not hesitate to call us at 518-584-WINE or visit our website www.thesaratogawinery.com for very easy and accurate directions.***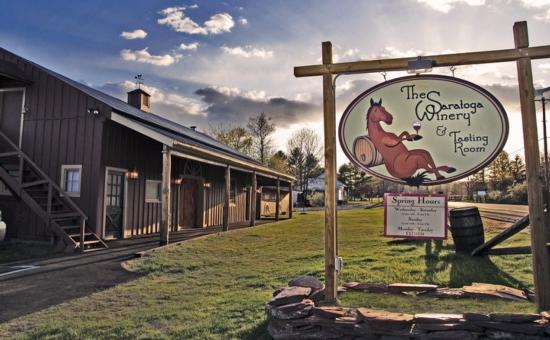 Click on the thumbnail images to see the larger version




Print More Information
Always get confirmation of the business location.
When: Fri, Apr 25, 2014 at 6:00 PM to 9:00 PM
Where: The Saratoga Winery - 462 Rt. 29 West, Saratoga Springs NY 12866
Join us for dinner and live music by RICH ORTIZ! Over 7 wood fired pizzas to choose from, appetizers and desserts! Pair your pizza with any of our 12 handcrafted wines, or choose a locally crafted beer...Cheers!
When: Fri, May 2, 2014 at 6:00 PM to 9:00 PM
Where: The Saratoga Winery - 462 Rt. 29 West, Saratoga Springs NY 12866
Relax and unWINE-ed with us, Friday night May 2nd from 6-9pm! Live music by the High Peaks Trio! Wood Fired Pizza & Appetizers! 14 handcrafted wines and local craft beer! No cover charge!